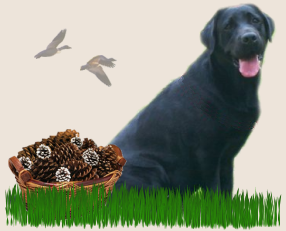 Welcome to Brassbrigade Labrador Retrievers! This page is dedicated to our wonderful canine friends just as our lives are.
We are located just south of Atlanta, Georgia and have been breeding quality Labrador Retrievers since 1991. Our goal has always been to produce beautiful, sound, healthy dogs that possess such wonderful temperaments, you cannot help but love them. After all, isn't that what makes a Labrador?

We enjoy showing our Labradors in conformation and have shown in obedience as well. We are also active members of the Greater Atlanta Labrador Retriever Club and have held the positions of board members, recording and corresponding secretaries as well as president. Labradors have become a major part of our lives and we consider ourselves blessed to be able to share our days with such wonderful, loving companions. Brassbrigade Labradors can be found in the conformation, obedience, and agility rings, hunting with their owners, and most importantly, as treasured family members.

Because of our love for the breed, we do our best to promote responsible breeding and dog ownership and all of our puppies are sold on AKC limited registration. We generally breed 1 - 3 litters per year. We breed only mature girls at least 2 years of age and all dogs used in our breeding program have appropriate joint certifications by the Orthopedic Foundation for Animals, a yearly eye clearance, heart clearance and at least one parent of any breeding is PRA, EIC & CNM Normal/Clear.


Please Note: We do not ship puppies. If you are out of state and prefer to fly, puppies must be picked up at our home and flown back in the cabin with their new owners.


We hope you enjoy your visit with the Brassbrigade Troop. The joy they have brought to our lives is immeasurable!

"Dogs are our link to paradise. They don't know evil or jealousy or discontent. To sit with a dog on a hillside on a glorious afternoon is to be back in Eden, where doing nothing was not boring--it was peace."
-- Milan Kundera




State of Georgia Department of Agriculture Kennel License #K341
Members of The Greater Atlanta Labrador Retriever Club, Inc.

Please remember that all Labradors need and deserve a home where they are loved and treasured, but so many are abused and abandoned, homeless and hungry. Never forget all that your pet does for you, how they give unselfishly and love unconditionally. Be the best friend your best friend deserves.

For further information or if you are interested in a Brassbrigade Labrador for your family, please contact:





Brassbrigade Labradors
Tina Kirkland
Tonya Stroud-Snair
Georgia
770-957-2414
brassbrigadelabs@gmail.com