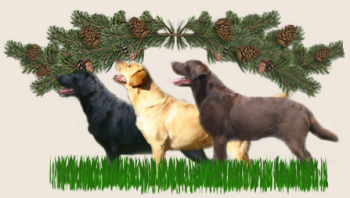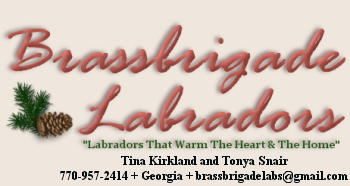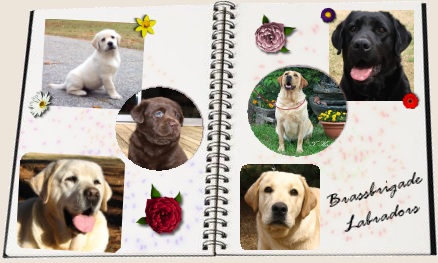 Scrapbook Navigation:



These pages feature pictures of Brassbrigade kids sent to us by their proud new owners.
Please use the navigational arrows to browse the scrapbook.

We are highly dedicated to raising beautiful, healthy, happy puppies. All of our puppies are handled daily from the day they are born until the day they leave for their new homes. They are all treated for intestinal parasites and vaccinated against parvovirus, distemper, hepatitis, adenovirus and parainfluenza. Puppies are sold on
AKC limited registration
.

As with any breed, Labradors are not for everyone. They are active dogs that have a strong need to be close to their human family. A fair amount of exercise is a must so that they do not become bored. Some work and training are involved in raising a Labrador, but for everything you put into your canine friend, you are repayed in full. Their temperament is second to none and because they become so close to their owners and possess such a strong desire to please, they can be trained to perform almost any task. The love of a Labrador is unconditional and deserves the same kind of love in return.

10 Commandments for a Responsible Pet Owner
1. My life is likely to last 10 to 15 years. Any separation from you will be very painful.
2. Give me time to understand what you want of me.
3. Place your trust in me - it is crucial for my well-being.
4. Don't be angry with me for long, and don't lock me up as punishment. You have your work, your friends, your entertainment. I have only you!
5. Talk to me. Even if I don't understand your words, I understand your voice when it's speaking to me.
6. Be aware that however you treat me, I'll never forget it.
7. Before you hit me, remember that I have teeth that could easily crush the bones in your hand, but I choose not to bite you.
8. Before you scold me for being lazy or uncooperative, ask yourself if something might be bothering me. Perhaps I'm not getting the right food, I've been out in the sun too long, or my heart may be getting old and weak.
9. Take care of me when I get old. You, too, will grow old.
10. Go with me on difficult journeys. Never say, "I can't bear to watch it," or "Let it happen in my absence." Everything is easier for me if you are there.



And remember, I love you.

-----Author Unknown



Scrapbook Navigation: