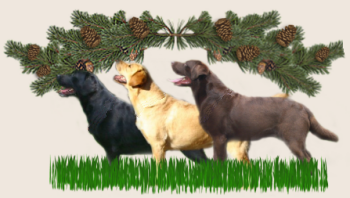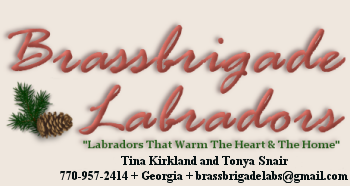 Some Things To Consider When Looking For A Puppy
**AKC registered does not mean you are getting a well bred, healthy puppy. The American Kennel Club is a not-for-profit organization that maintains a purebred dog registry, sanctions dog events, and promotes responsible dog ownership. If a dog is AKC registered, it simply means that its parents, their parents, and so on, were also AKC registered Labradors. AKC in no way monitors the quality, health, temperament, etc. of the dogs bred. Even in-bred litters can be registered. To read more on exactly what AKC registered means, click on the link below and read their article:
American Kennel Club -- Registration

**Do both parents have appropriate health clearances?
~Eye clearances are done on a yearly basis. Eye exams must be preformed by a canine opthamologist who is certified by the American College of Veterinary Opthamology (ACVO). Some breeders then mail the papers to the Canine Eye Registration Foundation (CERF) which is an eye registry.
~Joint clearances--There are several different ways to clear joints. The majority of breeders do so through the Orthopedic Foundation for Animals (OFA). Joint x-rays are done by a veterinarian and then submitted to OFA. Three seperate certified radiologists examine the x-rays and give their opinion on the joints. Both elbows and hips are done on Labrador Retrievers. Elbows are done on a pass or fail basis. Hips are given a rating of Fair, Good or Excellent if they pass, and Mild, Moderate or Severe if hips are dysplastic. Preliminary OFA's can be done at an early age, but because joints can continue to change as the dog matures, a dog must be 24 months of age to obtain a permenant OFA rating. PennHip is another way to clear hips only. PennHip measures joint laxity. There is also the Wind Morgan registry which can be done as early as 12 months. This registry examines x-rays of all sets of joints (hips, elbows, hocks, and shoulders) and all must be clear in order to obtain a Wind Morgan number.

**Is the breeder a member of a local or regional Labrador Retriever breed club and do their dogs compete in area events? Responsible breeders are not just breeding to produce pets! Yes, the majority of their puppies go to pet and companion homes, but each breeding is done with the intention of improving the breed and getting that once in a lifetime dog that excels in whatever sport the breeder is involved in. Some different areas breeders compete in are: conformation, obedience, agility, hunt tests, and field trials. Every breeder should be doing something!! No matter how long a person is in the sport of dogs, you never cease to learn new and exciting things about the breed. Being part of a breed club is a wonderful way to be involved in learning about, promoting, and helping your breed in general.

**Does the breeder sell pet and companion puppies on AKC limited registration? Litters produced by dogs who are sold on limited registration cannot be registered by AKC. Responsible breeders use this type of registration to protect their puppies and their bloodline. This is a sign of a caring breeder who doesn't want to see one of their puppies bred repeatedly or irresponsibly.

**Most reputable breeders have waiting lists for upcoming litters. By the time a litter is born, most - if not all - of the puppies are spoken for. If you're looking for a well-bred puppy from a responsible breeder, don't wait until the last minute to begin your search!

**The sire of a litter is not always on the premisis, but you should always be allowed to see the dam. Does she appear happy and healthy? Keep in mind, she may appear a little thin from feeding all her little ones, but she should not be emanciated or lethargic. Also, I've never personally met a Labrador mom who was overly protective of her brood. Their temperament is such that they usually try to get in between a newcomer and the puppies, so they can have all the petting for themselves!

**How do the puppies appear? They should be clean and obviously well fed, outgoing and playful. Puppies do tend to sleep quite a bit especially if you catch them right after a meal, but they should not appear fearful of humans. Most puppies that have had alot of time taken up with them, love being held, cuddled and talked to.

**Are the adult dogs owned by the breeder, dogs that you would like to own yourself? Breeders breed for certain types, activity levels and temperament. You should be able to look at the adults and say, "That's the type of Labrador I want!"

**Do you feel comfortable with the breeder? You should get the feeling that the breeder genuinely cares about his / her dogs and puppies and is trying to do what is in their best interest. A breeder that puts months of planning, energy and love into whelping and raising a litter, won't be trying to force their babies on puppy buyers. Just like you're looking for just the right baby for your home, they're looking for just the right home for their babies!